What's Included with Pricing Listed Above:
Machine Brand: Juki
Machine Model: PLC-2710-7
Machine Type: Single Needle Post bed walking foot with under-trimmer
Control Panel: CP-18C
Motor Type: Servo (Juki)
Motor Model: SC922B
Voltage: 110
Phase: 1
Stand/Legs Type: H (Heavy Duty)
Table Type: Standard
Thread Stand: Included
Metal Under/Drawer (for accessories): Included
Parts Manual: Not Included
3" Caster Set (Upgrade/Add-on): Included
___________________________________________________
Description:
The long distance from the machine arm to the needle contributes to improved workability
Most-advanced machine best suited to the stitching for heavy weight materials.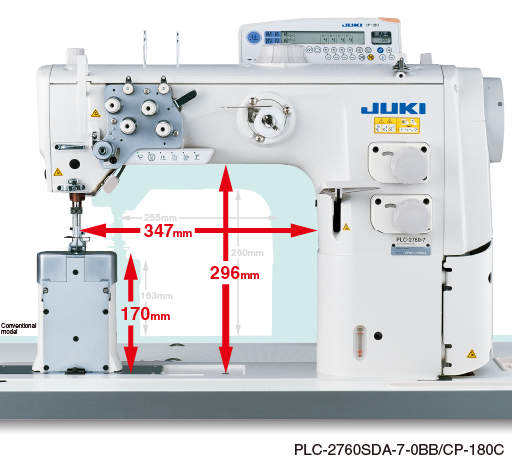 Walking-foot/presser-foot alternating vertical movement mechanism prevents irregular stitches

The sewing machine has adopted a feed mechanism which keeps the ratio between the amount of the vertical movement of the walking foot and that of the presser foot constant even when the material is changed. The amount of the alternating vertical movement of the walking foot and the presser foot is 9 mm at the maximum. This amount can be set with ease by means of the large dial installed on the upper section of the sewing machine.

Higher lift of the presser bar

A presser bar height of 20 mm is achieved when using the automatic presser bar lifting lever. Thanks to this feature, the process of joining leather and heavy-weight sponges, which are usually used as materials for expensive sofas, can be carried out with ease.

Eccentricity of the feed driving cam is adjustable

Adjustment of the eccentricity of the feed driving cam has been enabled. As a result, the sewing machine is able to perform sewing with the feed that is best-suited to the material and thread used. It is no longer necessary to prepare other subclass model sewing machines.

The upper and lower feed ratio is adjustable

The upper and lower feed ratio can be changed only by the adjustment of the lower feed amount without changing the upper feed amount, thereby preventing material slippage.

New lubrication system
Oil does not flow backwards by a valve system. Therefore, oil can be supplied certainly even low speed. Thanks to the stable lubrication to the hook, it produces beautiful seams.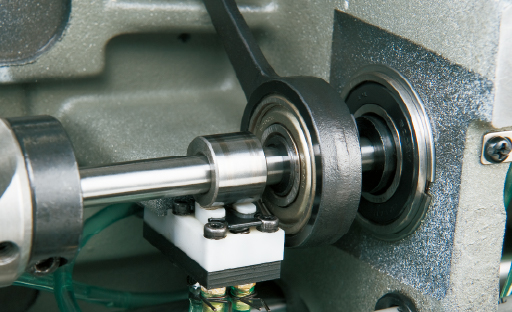 New bobbin thread spool device
New bobbin thread spool device is no necessity of rolling thread manually.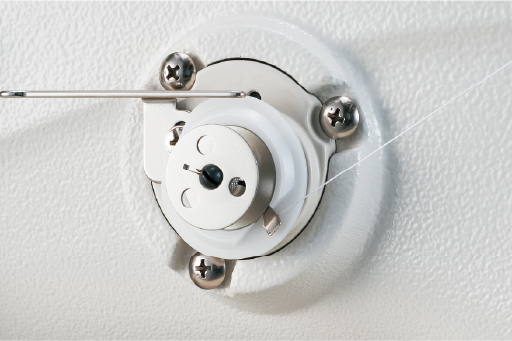 Model:

PLC-2710-7

Max. sewing speed:

2,500sti/min

Max. stitch length:

12mm

Presser foot lift height:

By hand:10mm, Auto:20mm

Needle Style & Size:

135×17 (Nm140)




Nm100~Nm180

Thread:

#30~#5,




B46~B138,




Nm60/3~18/3