What's Included with Pricing Listed Above:
Machine Brand: Juki
Machine Model: DLN-5410NH
Machine Type: Single Needle, Needle Feed, Flat Bed Machine with knee lift
& manual reverse
Motor Type: Mini Servo with dial speed control on the motor
Motor Model: CSM-550-1
Voltage: 110
Phase: 1
Watts: 550
Stand/Legs Type: K
Table Type: Standard
Thread Stand: Included
Metal Under/Drawer (for accessories): Included
Parts Manual:(Not Included) Available Via Juki Website
110v Mini Magnetic LED Light: Included
______________________________________________
Industries: denim, satin, soft leather, light weight leather, plush leather, medium to heavy weight apparel
_________________________________________
The machine produces seams with accurate stitch length and prevents slippage of the upper fabric. The machine ensures beautiful seam quality free from stitch gathering, even when a hard-to-feed material is used.
Higher lift of the presser foot
This machine is equipped with various devices that reduce the operator's fatigue and allow the operator to easily operate the machine. These devices include the following: The foot pedal needs only light pressure to be operated. The presser foot can be lifted as high as 13mm.
The shape of the machine arm has been designed to allow the operator to handle any material with ease.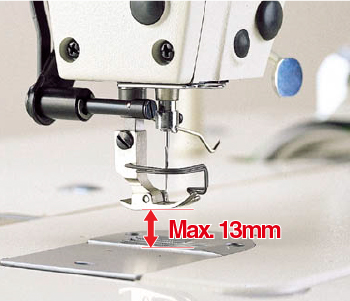 Model:

DLN-5410NH

Application:
Medium- to heavy-weight apparel
Max. sewing speed:

4,000sti/min

Max. stitch length:
4.5mm
Presser foot (height):
By knee: 13mm
Needle:
DB×1 (#21), 134 (Nm130)
All New Industrial Juki Sewing Machine come with a one year limited parts warranty.