* Machine Model, Made in Japan *
What's Included with Pricing Above:
Machine Brand: Juki
Machine Model: LU-1508NS
Machine Type: Single Needle, Union Feed lockstitch machine
with U-Bobbins, & vertical axis large hook
Motor Type: Mini Servo
with dial speed control on the motor
Voltage: 110
Phase: 1
Watts: 550
Stand/Legs Type: K (Heavy Duty)
Table Type: Standard
Thread Stand: Included
110v Mini Magnetic LED Light: Included
___________________________
Improved operability
The stitch length can be easily selected by the stitch dial.
The machine is provided with many improved features that offer enhanced operability such as an easy-to-observe area around the needle, placement of the bobbin winder on the front face of the machine arm, and a large handwheel (φ160).
A knee-lifter mechanism is built in the bed. This reduces the pressure required to operate the knee-lifter and facilitates setup. (Machines equipped with automatic thread trimmer are excluded.)
The machine is full-open-type top design makes it possible to fully open the top of the machine arm. Thanks to this design, adjusting works can be done without tilting the machine head.
The machine is equipped as standard with a safety clutch for preventing hook breakage. Reset work can be done simply by pressing a button.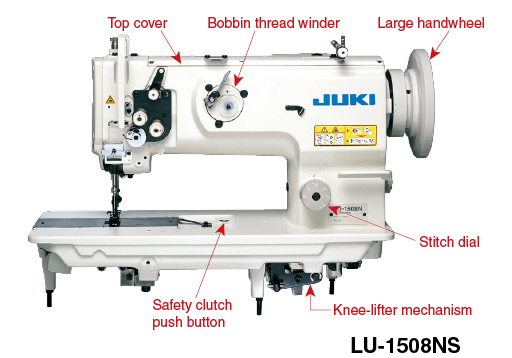 Higher lift of the presser foot
The high, 16mm foot lift enables easy material handling.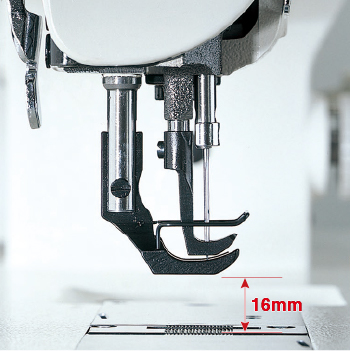 The highly efficient vertical-axis double-capacity hook is equipped as standard
With the adoption of this vertical-axis double-capacity hook, the frequency of bobbin thread changing is reduced, promising sewing work of increased efficiency.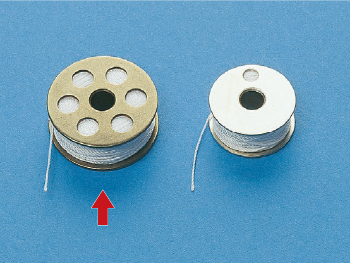 The machine comes with a dual-tension mechanism
The 1-needle type machine has adopted a dual-tension mechanism, with which the machine can support high-tension sewing with thick thread. This means that the machine produces seams of excellent quality on a broader range of materials, extending from light- to heavy-weight.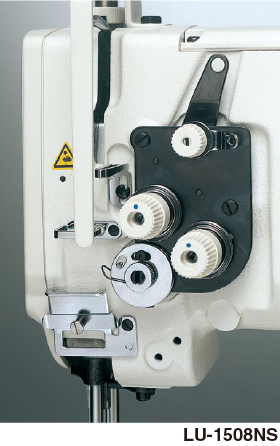 Industries: upholstery, auto upholstery, leather
Machine Specification

:

∙ Max. sewing speed 2,500 spm
∙ Max. stitch length 9 mm
∙ Needle bar stroke 36 mm
∙ Max. fabric clearance 16 mm by knee, 9 mm by hand
∙ Needle system 135 x 17
∙ Needle size Nm 125 to 180 (160 most recommended)
∙ Adjustable stitch length: by dial
All our New Industrial Juki Sewing Machine come with a one year limited parts warranty.