What's Included with Pricing Listed Above:
Machine Brand: Juki
Machine Model: AMS-210ENHL-1510
Machine Subclass Model: SZ5000D
Motor/Control Box Model: MC587EIP420F
Control Panel Model: JTAM2
Stand/Legs: Included
Table Type: Standard
Thread Stand: Included
Standard MFG Clamping (that comes on machine from MFG): Included
________________________________________________
Cycle time is shortened
The sewing machine has achieved the industry's highest sewing speed of 2,800sti/min. The maximum sewing speed is reached by the 2nd stitch from the beginning of sewing. Since the sewing machine maintains its highest sewing speed immediately before the end of sewing and instantaneously decreases its speed, cycle time can be substantially decreased.
JUKI's unique stepping-motor controlled thread trimming mechanism is adopted to enable speedy and consistent thread trimming performance.
The machine demonstrates enhanced responsiveness due to the adoption of a main-shaft direct-drive system.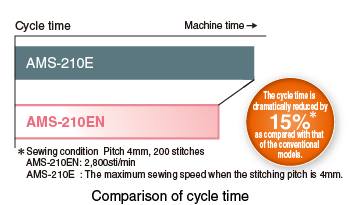 Power consumption is substantially decreased

The AMS Series are an economically-efficient model which has been designed to reduce power consumption.
The AMS-210EN is an economically-efficient model which has been designed to reduce power consumption. The sewing machine has adopted a direct-drive system by means of a compact AC servomotor that is excellent in energy transmission to drive the main shaft, and has adopted an encoder-control system which drives the stepping motor with a minimum of power in accordance with the material thickness and stitch length to control the X-Y drive mechanism. Power consumption of the new AMS Series is reduced by 30% when compared with JUKI's conventional AMS-210E.

Improvement of seam quality

The position of the feed can be checked during sewing by means of the encoder-controlled X-Y drive stepping motor. This remarkably improves accuracy of the feed. As a result, deformation of a sewing pattern which is likely to occur when sewing at a high speed or sewing a heavy-weight material is significantly reduced.

Semi-dry head

The frame (needle bar unit and thread take-up unit) is lubricated with grease, and the hook is fed with a minute quantity of oil from the oil tank. JUKI's advanced dry technology, which is utilized in a number of our sewing machine models, protects your products from being stained with oil.

Active tension

Market-proven active tension has been introduced to the needle thread tension controller. With the active tension, pinpoint changes in the needle thread tension during sewing are enabled. The needle thread tension, therefore, can be set in conjunction with the material thickness and can be corrected according to the direction of sewing on a stitch-by-stitch basis through the operation panel. Since the needle thread tension is reproducible, supporting a broader range of sewing conditions, the time required for setup changing upon process changeover can be reduced.

Operation panel provided with programmable functions IP-420
(provided as standard)

The large-sized liquid crystal touch panel, which has been developed to ensure ease of operation, dramatically increases efficiency in edit work.

The IP-420 touch panel offers market-proven ease of operation. It is provided with a wide screen and programmable functions. Data can be input/edited while visually checking the needle movement.
The color LCD unit displays sewing data such as stitch shape, needle thread tension, enlargement/reduction ratio, sewing speed and the number of stitches at a glance. The IP-420 is provided as standard with 14 different display languages.

Key-lock customization function
The key-lock state can be set as desired. It is therefore possible to hide items which should not be handled by the operators.
Simplified operation mode
Simplification of set items and screen transition of the IP-420 increases ease of use and helps reduce operator fatigue.



Programmable intermediate presser

To support the sewing of multi-layered parts of materials, the lower dead point height of the intermediate presser can be changed steplessly during sewing (standard: 0~3.5mm; maximum: 0~7.0mm). The intermediate presser will now be able to clamp the material without fail, thereby preventing troubles in sewing, such as stitch skipping and thread breakage. Furthermore, flaws on the sewing product are prevented by maintaining the intermediate height as desired according to the material thickness. (The intermediate presser stroke is adjustable between 0 and 10mm.)

Double-stepped stroke feeding frame
The feeding frame can be lowered in two steps. It is very convenient for finely positioning the material on the sewing machine. The stopping height of the feeding frame can be set as desired with ease.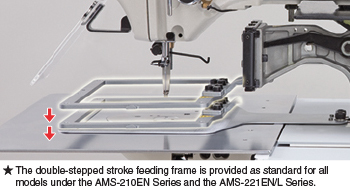 The memory storage capability of the main body of the sewing machine has been dramatically enhanced Now the USB-ready main body of the sewing machine uses many different kinds of media
Sewing data created with the IP-420 can be stored in the memory of the main body of the sewing machine. The memory storage capacity is 500,000 stitches and 999 patterns (max. 50,000 stitches per pattern) at the maximum. In addition to the CompactFlash 33 card, the main body of the sewing machine is provided as standard with a USB connector. Now, data can be input/output to/from various kinds of media (FD (floppy disks), SM (SmartMedia), CF (CompactFlash), SD (Secure Digital Card) etc.) by means of a USB thumb device and a card reader. The maximum number of stitches that can be stored in the memory for each medium is approximately 50,000,000.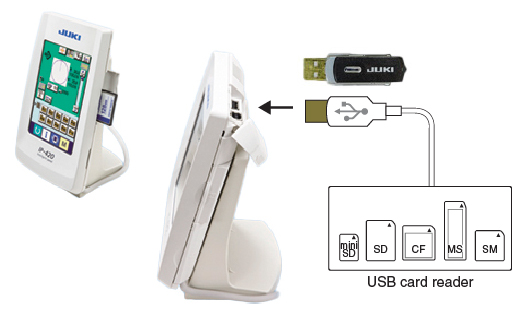 Computer-controlled Cycle Machine with Input Function

AMS-210EN-1510<Sewing Area: 150mm(X)×100mm(Y)>
1510 (X: 150mm × Y: 100mm)The sewing machine flexibly supports the sewing of small articles such as labels and emblems. The sewing machine's small sewing area promises ease of use when handling small articles, thereby enabling smooth sewing operation.
Model name:
AMS-210ENH
Application:
Medium-to heavy-weight
Max. sewing speed:
2,800sti/min (when stitch length 4mm or less)
Stitch length:
0.1~12.7mm (0.05mm step)
Storage of pattern
data in the memory:

Main-body memory: Max. 500,000 stitches, 999 patterns

(max. 50,000 stitches / patterns)

External media: Max. 50,000,000 stitches, 999 patterns

(max. 50,000 stitches / pattern)

Needle:
DP×17 (#18)
All New Industrial Juki Sewing Machine come with a one year limited parts warranty.