Whats Included with Pricing Listed above:
(New machine in MFG Box)
Machine Brand: Union Special
Machine Model: 2200G
Machine Type: Hand-Held 401 stitch (Heavy Duty)
Voltage: 110
* Also Comes with Qty.2 Spools of Tex 207 Polyester Bonded Thread, & Qty.5 extra needles
Included new in MFG Box:
Qty.1 machine
Qty.1 parts manual
Qty.1 MFG accessory pack
___________________________________
Industries: geotextile, geosynthetic, environmental, pit liner, landfill liner, pit liner, light to medium weight turf
__________________________________
- Heavy Duty Portable - Combined upper and lower feed grip boths sides of the material - Built-In thread chain cutter - 2-thread or 1-thread available - Adjustable stitch length - Weight 12lbs (5.4 kg)
Built-in thread chain cutter.
Housing for electric motor and handle made of fiberglass-reinforced break-resistant polyamide.
Combined upper and lower feed for greater power grips both sides material.
Standard needle: 9854G 230/090.
Stitch Type: 401
Voltage: 110-125 V
Two-thread, 50/60 Hz equipped with coarse feed dogs and with large cone thread stand
Heavy duty Portable version for Geotextiles and Turf materials.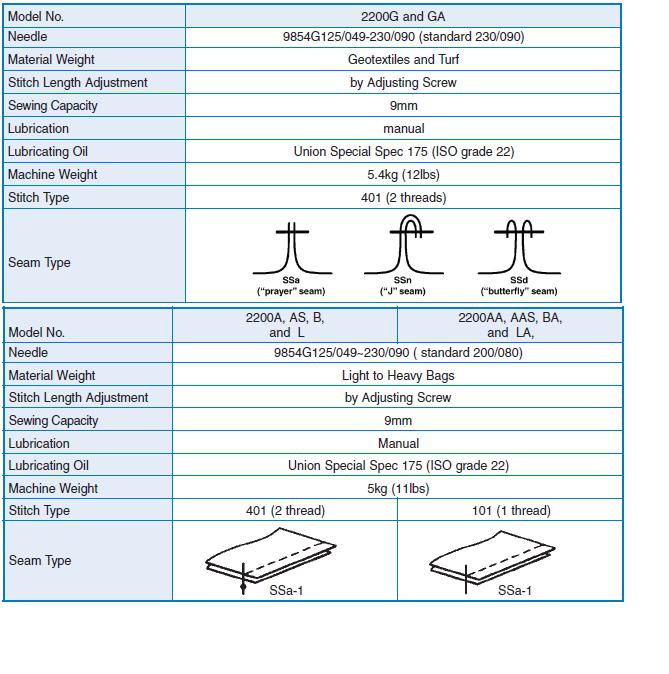 Click To View Union Special 2200G Product Specifications Brochure PDF