What's Included with Pricing Listed above:

Machine Brand: Union Special
Machine Model: 2200G
Machine Type: Hand-Held 401 stitch (Heavy Duty)
Voltage: 110
* Also Comes with Qty.2 Spools of Tex 207 Polyester Bonded Thread, & Qty.5 extra needles
Included new in MFG Box:
Qty.1 machine
Qty.1 parts manual
Qty.1 MFG accessory pack
___________________________________
Description:
- Heavy Duty Portable - Combined upper and lower feed grip boths sides of the material - Built-In thread chain cutter - 2-thread or 1-thread available - Adjustable stitch length - Weight 12lbs (5.4 kg)
Built-in thread chain cutter.
Housing for electric motor and handle made of fiberglass-reinforced break-resistant polyamide.
Combined upper and lower feed for greater power grips both sides material.
Standard needle: 9854G 230/090.
Stitch Type: 401
Voltage: 110-125 V
Two-thread, 50/60 Hz equipped with coarse feed dogs and with large cone thread stand
Heavy duty Portable version for Geotextiles and Turf materials.
Click To View Union Special 2200G Product Specifications Brochure PDF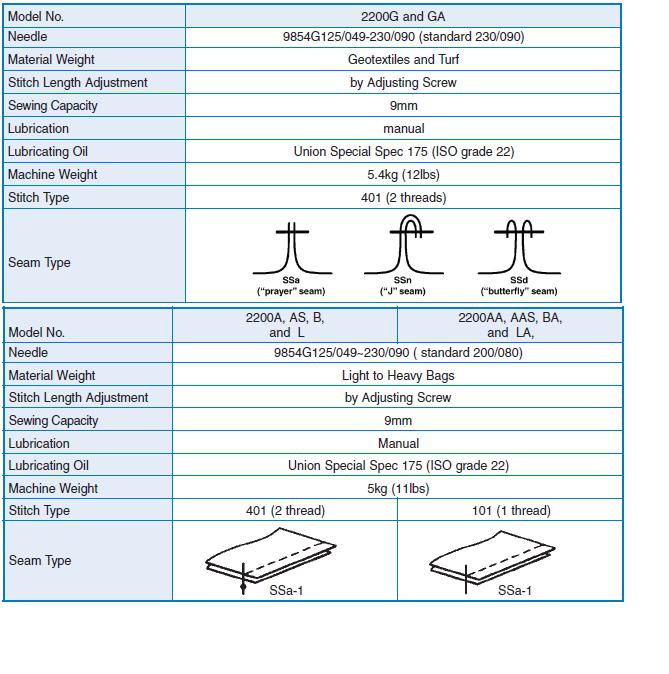 Industries: geotextile, geosynthetic, environmental, pit liner, landfill liner, pit liner, light to medium weight turf